Across the world animal rights activists work hard to prevent trophy hunting just for fun. Despite the organizations who fight to end this it still occurs.
On of the countries where this type of hunting is still legal is South Africa, where the larger the animal is the greater the honor.
Recently a woman from Kentucky posed in front of a black giraffe she had just hunted. She shared the images on social media but didn't realize the outrage it would cause.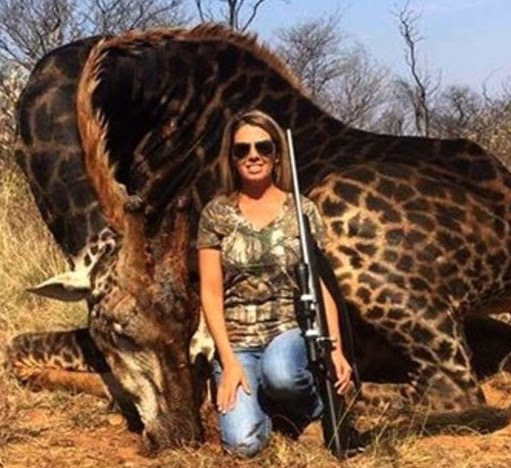 The woman identified in the images was Tess Thompson Talley which showed her standing proudly in front of the giraffe with the caption:
"Prayers for my once in a lifetime dream hunt came true today! Spotted this rare black giraffe bull and stalked him for quite a while. I knew it was the one. He was over 18 years old, 4000 lbs. and was blessed to be able to get 2000 lbs. of meat from him."
Around 1.7 million animal "trophies" have been exported across the borders by hunters in the last decade, according to statistics. At least 200,000 of them are considered endangered species.
At present this type of hunting is permitted in South Africa, as well as a Namibia, Zambia and Zimbabwe. When a local media outlet in Africa shared the post with their own description, it quickly spread across the globe.
The tweet caused a backlash from animal lovers, activists and celebrities such as 'Will and Grace' star Debra Messing and comedian and actor Ricky Gervais.
Writer and star of 'The Office' Gervais tweeted that "Giraffes are now on the 'red list' of endangerment due to a 40% decline over the last 25 years. They could become extinct. Gone forever."
I'm horrified by seeing these pictures. People like her are actually killing defenseless animals for pleasure!! This needs to stop. NOW!!! #TessThompsonTalley #BanTrophyHunting @GAIABrussels pic.twitter.com/lBsdoqADGT

— Δααν (@DaanJordens) June 18, 2018
If you agree with this topic then please SHARE with your friends on Facebook.
Scroll Below To Read More Top Stories From News Actual.